Koan Cordial Popsicle Recipes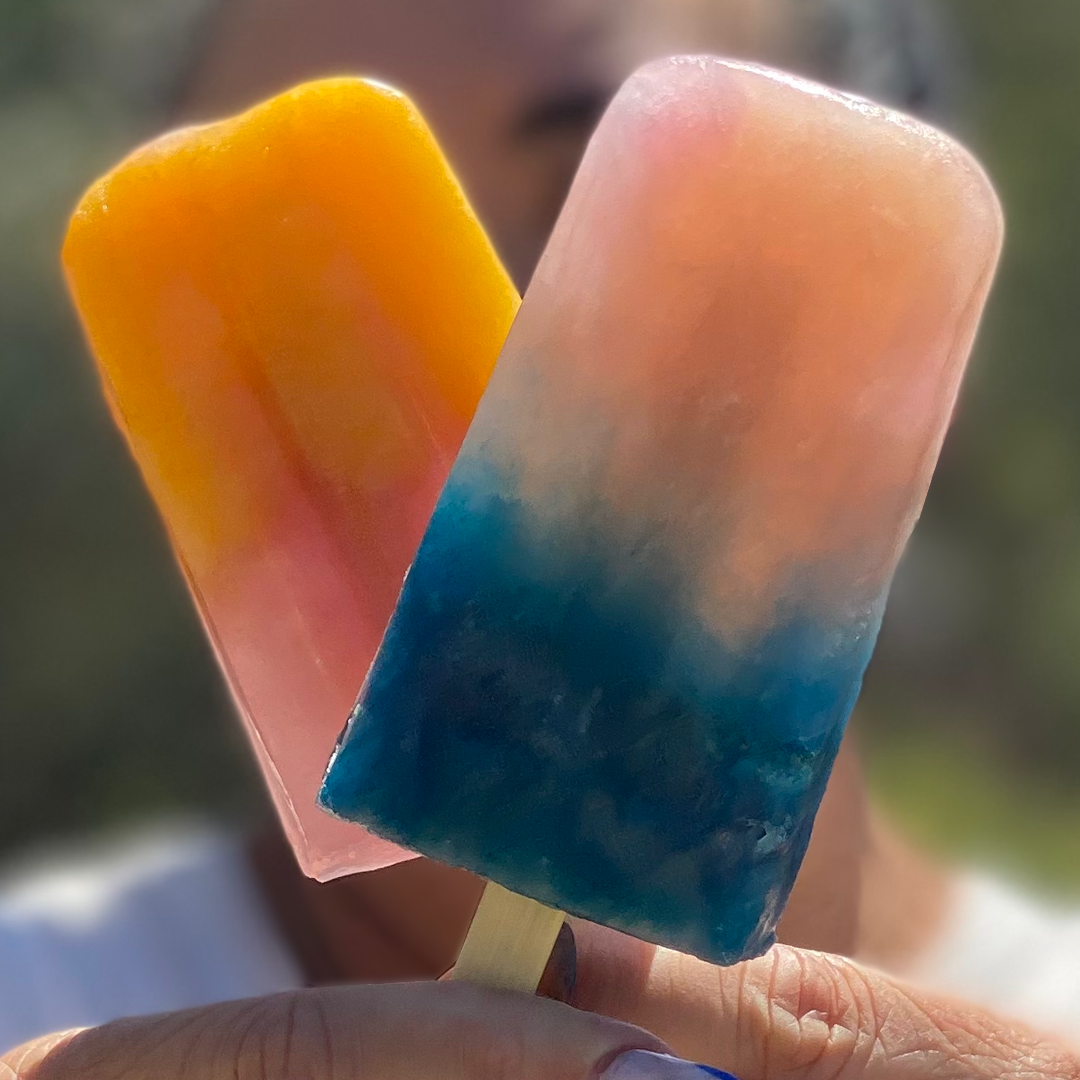 Did someone say Popsicle Party?
It's been a brutally hot summer this year. One way to stay cool is to make popsicles! There is something nostalgic and joyful about a popsicle. Our recipes can be poured into any popsicle mold for lots of different flavors and combinations. Whether you want to make single flavor popsicles or you want to try your hand at layered colors and flavors, we have a few recipes to choose from. We paired plant-based flavors and colors for two layered Delight pops!
The great thing about Cordials is their flexibility and the many experiences you have to choose from. Having a pool party with friends? Play pops are the ticket. Need some zen during a stressful day? How about chilling out with a Calm pop? In this recipe we used Delight because what's more delightful than a popsicle? Make some with all six blends, have a popsicle party and let your guests choose the experience they want from their frozen treat.
Popsicle layers can be a complicated process, if you've never tackled popsicles before. Remember, there is no less happiness in a single flavored popsicle. So feel free to just pick one of the recipes below for your batch of Delight pops! Just double up one of the recipes below for a full batch of popsicles.
For multi-layered popsicles, the easiest and most convenient base ingredient is lemonade. Layered popsicles take time and patience. Lemonade is a great foundation to add a variety of other flavors on top of and you can easily purchase ready-made lemonade to do some of the heavy lifting for you. You'll want to sweeten your lemonade slightly more than you would if you were drinking it from the glass. Frozen popsicles tend to numb your taste buds and so increasing the sweetness provides a better balanced flavor.
One note when using real fruit puree, adding another liquid like coconut water to your puree will ensure a good frozen texture. Using pure fruit puree, results in a softer textured popsicle and tends to melt more quickly. Adding some liquid can help firm up the popsicle. We like adding coconut water, which adds a hint of sweetness and the texture we're looking for.
As you make each of the popsicle liquids, we like to prepare them in glass measuring cups with a spout, like the pyrex ones. This makes it easier to pour them into the molds, with less mess.
We add approximately 1 cordial to every 8 fl. oz or 1 cup of liquid. One popsicle is about 3-4 oz. So a full dose is typically 2 popsicles. And of course, there is no reason you couldn't adjust your measurements to add a full cordial to every popsicle. But who's going to turn down a second popsicle? Am I right?
Feel free to try these recipes in combination or as single flavor pops. Having lots of color and flavor options, when sharing them with friends, only boosts the joy!
Yields: 4-6 popsicles, depending on the size of your popsicle molds.
Popsicle Party Ingredients
3 cups of lemonade
¼ cup agave
½ cup fresh blueberries
½ tsp pf blue spirulina
¼ cup of butterfly pea flower blooms or 1/4 tsp of butterfly pea flower powder
4 single-serve DELIGHT Cordial bottles (or any blend of your choice)
For mango puree:
1 mango, the pulp of a very ripe mango
½ cup coconut water
Additional agave to taste
For Lavender syrup:
1 cup water
1 cup granulated sugar
2-3 Tbs of lavender blooms or lavender extract
Liquid layers
Blueberry Lemonade:
Make blueberry lemonade by adding fresh blueberries to 1 cup of lemonade (set the rest of the lemonade aside). Muddle the blueberries, which will give the lemonade a pretty, pinky, purple hue. Strain the lemonade over a mesh strainer into a liquid measuring cup. Add agave if more sweetness is needed. Add 1 single-serve Coridal of Delight. Set aside.
Lavender Lemonade:
Make lavender lemonade by first making the lavender simple syrup. Combine sugar, water, lavender in a small sauce pan. Bring to a boil stirring until the sugar is dissolved. Simmer for 1 minute. Take the syrup off the heat and allow to rest for 30-45 minutes. The longer the steeping of the lavender, the more intense the flavor. While it is resting add your butterfly pea flowers or powder to give the syrup its lavender color. Press the lavender blooms to press out as much of the flavor and oils to infuse into the syrup. After it has rested, add ¼ cup of lavender syrup to 1 cup of lemonade. Add 1 single-serve Coridal of Delight. Set aside.
Blue Spirulina Lemonade:
Make blue spirulina lemonade. Take 1 cup of lemonade and add blue spirulina. Stir well to ensure the spirulina dissolves completely without any lumps. Add 1 single-serve Coridal of Delight. Set aside.
Mango puree:
Make mango puree. Remove the peel from the mango and then cut the fruit away from the seed. Place the mango into a blender. You may also use frozen mango, but ensure you thaw it first. Add coconut water, lemon juice to the blender and blend until smooth. Add agave to taste. This will likely depend on the sweetness and ripeness of your mango. Add 1 single-serve Coridal of Delight.
Lavender Lemonade and Blue Spirulina Popsicles
Prepare 4 popsicle molds and fill each mold halfway with the lavender lemonade. Freeze for 2-3 hours to set. This will allow the second layer to sit atop the first without the two liquids blending together.
After allowing the first layer to set up, then check to ensure the liquid is set. This can be done by tipping the popsicle mold slightly at an angle to see if it has properly set. If so, then the next layer can be added. Pour the Blue Spirulina lemonade atop the frozen layer of lavender lemonade. Then put the molds back into the freezer for 6-10 hours or overnight.
Repeat the same process for the Mango puree and the Blueberry lemonade. Add your popsicle sticks. Freeze 6-10 hours or overnight. Dip your frozen molds in warm water to release popsicles from the mold. Then plate and pass out the frozen cheer to all your guests!
FAQ
Why are Koan Cordials different from other edibles?
Because Cordials are an emulsified liquid, they have the quick onset properties of a tincture but the longer effect life of edibles.  Many people accidentally take too much THC when using edibles because the effects are delayed and unpredictable.  This is frequently a disappointing or even frightening situation.   Your body processes an emulsified liquid differently than it does a "traditional"  edible.  Koan Cordials are precisely controlled formulas with rapid onset that provide predictable and beneficial experiences – time after time.
Is this a full spectrum product?
Koan Cordials are made from carefully sourced, isolated and emulsified ingredients. This method of isolating elements gives us the ability to take advantage of the properties of each element separately.  This allows us to deliver a uniquely precise product experience and consistency not possible using a full spectrum plant oil.