Beta Ocimene Terpene: What It Is, Effects, Benefits & Uses

Beta Ocimene Terpene: What It Is, Effects, Benefits & Uses
Cannabis consumption in the United States has always been focused on cannabinoids, including and especially the euphoric cannabinoid Delta-9 THC. However, as the scientific community catches up to the biology of all of the compounds found in cannabis and other plants, we have come to understand that cannabinoids are just the tip of the iceberg. These other compounds are called terpenes and can provide more therapeutic effects than consuming cannabinoids by themselves. This is known as botanical synergy or the Entourage Effect.
Essentially, the Entourage Effect states that cannabis is composed of many active plant compounds called terpenes and their combined effects are greater and more useful than the effects of the individual compounds in isolation. The addition of terpenes to cannabinoids is thought to be an interesting new avenue of pharmacology in the development of novel treatments for psychiatric symptoms, like anxiety. One such terpene is beta-ocimene.
What Is Beta Ocimene Terpene?
Of the beta-ocimene terpenes, there are two different forms: cis-beta ocimene and trans-beta ocimene. What's the difference between these two, you might ask? Structurally, very little.
In the field of organic chemistry, the terms cis and trans refer to the concept of isomers. Isomers are organic compounds that have identical components but are organized differently. There are many types of isomers. As a visual illustration, consider your left and right hand. Anatomically, they have the same shape, size, fingers, organization, etc. But, though they look very similar, they are not the same. That is because your left and right hands are mirror images of each other.
Isomers work the same way in that they can be mirror images of each other. In this case, cis and trans means that each molecule is made up of the same number and type of atoms and are organized exactly the same except for one group of atoms. This group of atoms is in a slightly different position in the molecular chain depending on if it's cis or trans.
When you're doing your own research, be aware that trans-beta-ocimene can go by many names, such as trans-β-ocimene, (E)-beta-ocimene, (E)-3,7-Dimethylocta-1,3,6-triene, and (3E)-3,7-dimethylocta-1,3,6-triene and is one of the most common, naturally occurring monoterpenes.
Likewise, cis-beta-ocimene has several interchangeable names like (Z)-beta-ocimene, cis-ocimene, (Z)-3,7-Dimethylocta-1,3,6,-triene, and more.
Now, you might be asking yourself, what's the functional difference between the two since they're so similar in structure and shape? That is up for debate.
Therapeutic Differences Between Cis and Trans-Beta-Ocimene Terpenes 
Both cis and trans-beta-ocimene are known for their woodsy and strong, sweet floral aromas and are found in similar plants, like black currants, mangos, passion fruit, and cannabis, of course. Medicinally though, they differ a bit.
In one study, researchers examined the antibacterial effects of different compounds on fresh-cut pineapple. Interestingly, they found that both trans and cis-beta ocimene were a "potent antimicrobial agent that killed microorganisms." However, research is needed to determine if one type of ocimene has more potent antimicrobial effects compared to another.
Another study examined the effects of cis-beta-ocimene as an antifungal agent, which seems to have promise. However, the study only used cis-ocimene and didn't compare or contrast cis-ocimene compared to trans-ocimene in terms of antifungal effects.
General Ocimene Effects – What Does It Do?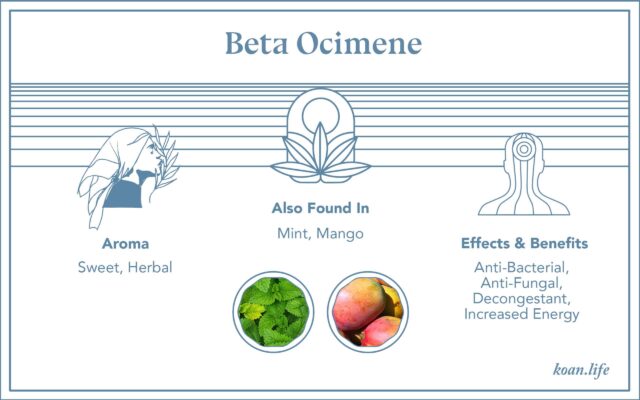 Like many terpenes with unique scents, ocimene is often used as an insecticide as well as many industrial and commercial uses. Given its woodsy and floral aroma, it's also frequently added to cleaning products, fabric softeners, soaps, and more.
Thanks to emerging research regarding ocimene's therapeutic benefits, it appears that beta-ocimene can have powerful antifungal, antiviral, and anti-inflammatory properties. However, more robust research is needed to determine the extent of these effects.
Antifungal
In 2015, the Journal of Natural Medicine conducted a research study that examined the effects of cis-ocimene and alpha-pinene as antifungal agents. When essential oils containing both terpenes were used against human fungal species (like dermatophytosis and cryptococcosis), their data suggests that ocimene could be an effective antifungal treatment for specific fungal species.
Antiviral
The Chemistry and Biodiversity Journal conducted a study in 2008 examining the chemical composition of essential oils from seven Lebanese trees (Laurus nobilis, Juniperus oxycedrus ssp. Oxycedrus, Thuja orientalis, Cupressus sempervirens ssp. pyramidalis, Pistacia palaestina, Salvia officinalis, and Satureja thymbra). Of particular interest was the oil from L. nobilis.
Their research suggests that L. nobilis, which contains large amounts of beta-ocimene, had antiviral properties against HSV-1 (cold sores or fever blisters). However, it is important to note that this study was only performed in vitro. So more research is needed to determine the exact effects "in vivo" or in actual humans. Though current research is limited, the initial data looks promising.
Anti-Inflammatory
In addition to the L. nobilis essential oil mentioned above, another essential oil beginning to pick up interest is Oenanthe crocata. Like L. nobilis, Oenanthe crocata contains fair amounts of trans-ocimene, approximately two times more trans-beta-ocimene compared to cis-beta-ocimene. A flowering plant in the carrot family, Oenanthe crocata is actually an extremely poisonous and dangerous plant in its natural form. The extracted oil is harmless, however, and even potentially therapeutic.
In this study, researchers found that Oenanthe crocata seemingly displayed strong anti-inflammatory effects and moderate antibacterial activity against Streptococcus faecalis and Bacillus lentus. Given this plus its biochemical properties, beta-ocimene in Oenanthe crocata could potentially be an effective treatment for dermatophytosis and/or arthritis and other inflammatory diseases.
Asking For a Terpene Analysis
By now, you're probably familiar with the process of purchasing cannabis products from a dispensary. You've likely got a good idea of the things to ask for, like a certificate of analysis (COA), which shows the third-part test results for a product, but there's a new question that budtenders are beginning to hear: "can you provide the terpene analysis for this product"? The value in asking for a terpene analysis is that you can better assess the full details of what's in your product, thus leading to a more predictable experience. If you're not sure where to begin when it comes to interpreting a terpene analysis, be sure to check out our guide to dialing in your experience and understanding how this handy test can change how you interact with cannabis. It should be noted that a terpene analysis likely won't be available for consumers who prefer cannabis flower, given the variability in each bud.
Ocimene in Cannabis: Koan's Cordials
We are proud to offer a new way to experience cannabis with our one-of-a-kind cannabis cordials. Each cordial is carefully crafted with a mixture of cannabinoids and terpenes to ensure accurate potency and predictable experiences (because of our emulsification technology, we can guarantee cannabinoid solubility and consistent dosing).
Ultimately, in our experience, beta ocimene is a stimulant. One might say, a "happy and bright" component in some of our formulas. For example, a huge part of what makes our Play cordial so awesome is the stimulative effect of beta ocimene that we use to increase energy and interaction and creativity. By way of comparison, while both our Play and our Wonder experiences are at the same level of THC, they are very distinct from each other because of the use of beta ocimene in Play. It is the beta ocimene, along with other terpenes like limonene, that provides a boost of happy energy so that you can get fully immersed in the moment.
To enjoy the therapeutic value of beta-ocimene working in synergy with cannabinoids and a composition of other powerful terpenes, look no further than Koan Cordials. Carefully crafted mixtures of cannabinoids and terpenes, Koan cordials are a brand new way to experience the benefits of terpenes combined with cannabinoids. Each Koan blend is crafted to cultivate different effects via botanical synergy, a new approach on cannabis. Whether you would like to quiet your mind, stimulate your senses, or become fully immersed in the moment, Koan has something to offer. All you have to do is decide what you would like to do and then select the Cordial experience that would best facilitate that decision. Always remember, "The Active Ingredient is You."
This article is for informational purposes only and not to be used as medical advice. Please speak with a medical professional before making any changes to your diet, medications, or daily routine. These statements have not been evaluated by the FDA. These products are not intended to diagnose, treat, cure, or prevent any disease. 
References: